Event Details
Cancer Patient & Family Orientation Class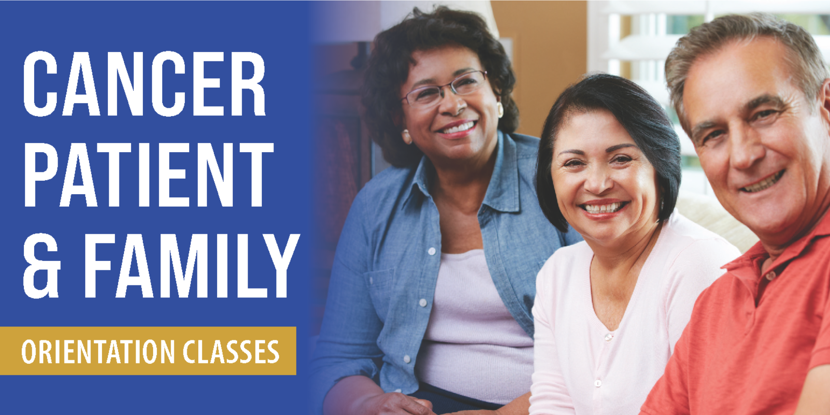 About This Event
Details:
Arrowhead Regional Medical Center's Cancer Patient & Family Orientation Classes are designed to provide you and your family members with the education and resources needed to navigate you through your comprehensive cancer care.
We provide helpful tips on:
How to talk to your care providers and support staff
Where to locate assistance while at the hospital or within the community
How to face your fears and other emotions
Your personal and family concerns
Classes are offered every third Wednesday of the month in the Aspen Conference Room on the second floor of the Medical Office Building (MOB) from 2 p.m. – 3 p.m.
For more information regarding the orientation class, you may call 909-580-1925.
2022 Cancer Patient & Family Orientation Class Schedule
December 21, 2022
2023 Cancer Patient & Family Orientation Class Schedule
January 18, 2023
February15, 2023
March 15, 2023
April 19, 2023
May 17, 2023
June 21, 2023
July 19, 2023
August 16, 2023
September 20, 2023
October 18, 2023
November 15, 2023
December 20, 2023
__________________________________________________________________________________________________________
CLASES DE ORIENTACIÓN PARA PACIENTES CON CÁNCER Y SUS FAMILIAS
Las clases de orientación de Arrowhead Regional Medical Center para pacientes con cáncer y sus familias tienen como objetivo brindarle a usted y a los miembros de su familia la educación y los recursos necesarios para guiarle a través de su atención integral del cáncer.
Brindamos consejos útiles sobre:
Cómo hablar con sus proveedores de atención y personal de apoyo.
Dónde encontrar asistencia en el hospital o dentro de la comunidad.
Cómo afrontar sus miedos y otras emociones.
Sus preocupaciones personales y las de sus familiares.
Las clases se ofrecen cada tercer miércoles del mes en la sala de conferencias Aspen en el segundo piso del edificio de Oficinas Médicas (MOB) de 2 p.m. a 3 p.m.
Para obtener más información sobre la clase de orientación, puede llamar al 909-580-1925.
CRONOGRAMA DE CLASES DE ORIENTACIÓN PARA PACIENTES CON CÁNCER Y SUS FAMILIAS 2023
18 DE ENERO
15 DE FEBRERO
15 DE MARZO
19 DE ABRIL
17 DE MAYO
21 DE JUNIO
19 DE JULIO
16 DE AGOSTO
20 DE SEPTIEMBRE
18 DE OCTUBRE
15 DE NOVIEMBRE
20 DE DICIEMBRE
Registration
Price:

Free
Registration Instructions: