Arrowhead Regional Medical Center Encourages Women to Stay Up-to-Date on Screening During Breast Cancer Awareness Month
Arrowhead Regional Medical Center Encourages Women to Stay Up-to-Date on Screenings During Breast Cancer Awareness Month
Arrowhead Regional Medical Center (ARMC) is participating in National Breast Cancer Awareness Month during October to increase awareness of the disease and to remind women to talk with their doctors about ways to lower their risk, and about screening for breast cancer. Breast Cancer is the most frequently diagnosed cancer among women in the United States and the second leading cause of cancer death, second only to lung cancer. ARMC now offers one of the most advanced breast tomosynthesis technologies on the market, the Hologic 3Dimensions™ mammography system, at its McKee Family Health Center.
Regular mammograms can detect breast cancer at an early stage, when treatment is most successful. Hologic's 3Dimensions system offers a number of innovative features that improve image clarity and help manage dose, setting it apart from other screening technologies. With National Mammography Day falling on Oct. 16, women are encouraged to make an appointment for overdue mammograms, as well as to stay current on regular ones.
For those diagnosed with breast cancer, ARMC has partnered with the City of Hope, to provide comprehensive, high-quality, and evidence-based oncology services. ARMC will soon open a new Oncology Clinic.
For additional information about risk factors and screening for breast cancer, and other cancers, visit ARMC's website at www.arrowheadregional.org/services/cancer-treatment. The McKee Family Health Center is located at 1499 E. Highland Avenue in San Bernardino. Mammography appointments are available Monday through Friday from 9 a.m. to 5 p.m., and can be made by calling 909-777-0834, extension 5.
About Arrowhead Regional Medical Center:
ARMC is a 456-bed university-affiliated teaching hospital licensed by the State of California Department of Public Health, operated by the San Bernardino County, and governed by the Board of Supervisors. It is ARMC's mission, in an environment of learning and innovation, to serve our diverse community with high-quality compassionate care. The hospital, located on a 70-acre campus in Colton, California, operates the Edward G. Hirschman burn center, a trauma center, primary stroke center, a behavioral health center, and five family health centers. ARMC also provides more than 40 outpatient specialty care services. ARMC is helping to achieve the Countywide Vision by addressing the community's wellness and educational needs. ARMC is the primary teaching hospital for the California University of Science and Medicine (CUSM). The University welcomed its first class of students in 2018. The School of Medicine is an allopathic (M.D.) school, and is the first new, privately funded, not-for-profit medical school to earn accreditation from the Liaison Committee on Medical Education (LCME) since 1949. For more information on CUSM, visit https://www.cusm.org/. For more information about ARMC, visit www.arrowheadregional.org. Follow ARMC on Twitter at @ArrowheadRMC for important announcements and updates, and on Facebook at www.facebook.com/arrowheadregional.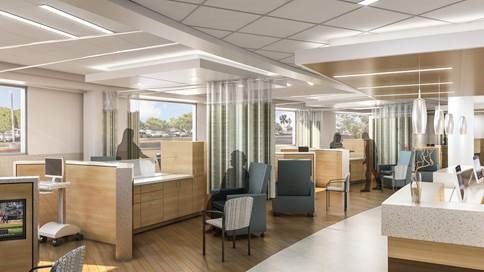 Arrowhead Regional Medical Center is committed to caring for its oncology patients. This fall, ARMC's newly remodeled Oncology/Infusion Therapy Clinic will be unveiled. The clinic features 12 exam rooms; 17 infusion bays with TVs and USB ports, as well as a nutrition café to offer patients and their families light refreshments during infusion sessions, which can last several hours.